Rail freight software requirements
Increased transport volumes, road congestion and climate change are challenges facing the logistics industry. Within the EU but also internationally. The European Commission is determined to achieve the following goal: From 2050 on, for distances greater than 300 km, 50% of transport is conducted through a different modality than road transport. In that regard, rail freight forwarding is a great option. Compared to road transport it can handle massive volumes against much less CO2 emission.
These are great opportunities for freight forwarders but, it doesn't mean that the industry is ready. Internationally, but in the EU also, there are vast differences in policy on freight forwarding via rail. The result is more administrative tasks and costs that might put off some forwarders. To encourage the modal shift towards rail transport several initiatives and grants have been established. As usual, technology plays a big part in this shift. In this blog, we look into some software innovations that simplify the processes surrounding rail forwarding.
Interoperability
Within the EU exists the TAF TSI. The regulation of functional and technical standards regarding the exchange of information between infrastructure managers, rail carriers and other stakeholders. Because of this, all systems can work together and exchange data. This includes real-time insights into freight and train, marshalling and allocation systems, billing systems, the management of multimodal transport and the production of electronic documentation.
Therefore the software that organizes your rail forwarding activities must be able to handle this well. For example, by building extensive integration and connecting possibilities into the software with Portals.
Rail forwarding over the Silk Road
The new Silk Road offers forwarders another option for transport to and from China. Air transport is fast but expensive, and Ocean transport is slow but cheap. Rail transport might be a suitable middle ground.

The new Silk Road offers opportunities for international trade, yet not everyone within the logistics industry is eager to use it. Because with new opportunities come new challenges, such as the locomotives between Russia-China that differ from the locomotives between Europe-China. Because of this, you are obligated to make an extra stop to change locomotives resulting in additional administrative tasks and increased risk of delays.
Luckily there is a straightforward solution. More and more forwarders digitalize their activities. They implement rail freight software that enables them to define routes beforehand. All deadlines that the transport has to meet, are entered into the system. Such as order date, planned date, actual date. Does a delay still happen? Then the system sends you a notification so you can directly act on it. The entire route, and possible notifications, are effortlessly communicated digitally.
Central dossier in rail freight software

Rail forwarding often requires more administration than road- or ocean transport. There are still many differences regarding regulations within different countries, and this requires an accurate and concise dossier. Adaption has built the FMS so that you can manage the entire transport from a single dossier. All necessary documentation is easily added to the dossier, such as customs documentation, machinist certificates, licences, invoices and shipping documents.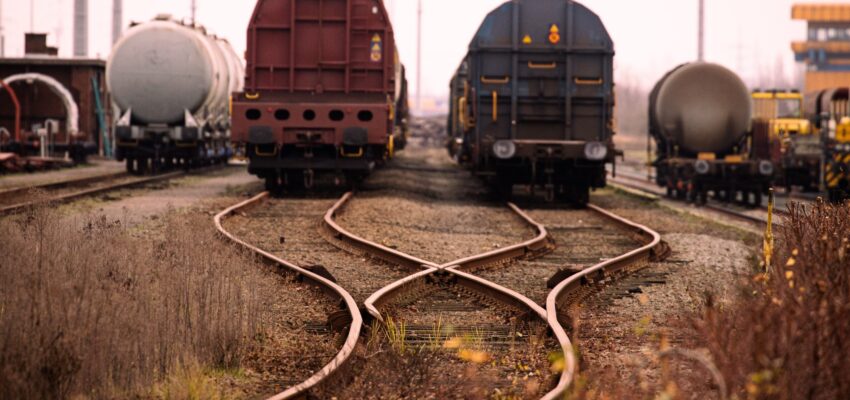 Track & Trace

The Track & Trace function within the FMS system tracks your wagon or container during the entire route. This function makes sure that you are always up to date on the exact location of your goods. The readings within the container are constantly tracked, such as the temperature or gas level. The system tracks these readings and notifies you when any unexpected changes occur.
Rate management of rail operators
Rail operators all maintain different rates. Accurate rate management is essential, especially if you wish to transport your goods internationally. Adaption understands this and has therefore made sure that you can add several contracts within one dossier. Building your dossiers like this ensures that you always maintain an overview of the order, costs and revenue.
Hazardous goods and rail freight forwarding software

Approximately 10% of rail transport in the Netherlands contains hazardous goods. That is why Adaption made sure the software handles the storage, registration and transportation of hazardous goods. The built-in hazardous goods table is a prime example. The latest versions of hazardous goods codes are available as core data within the system. It makes sure you can easily add the standard codes. Regular fields are ADR/RID, UN no, Class, Classification code, labels, packing group, transport category and tunnel restriction code. The system can also adjust the language of descriptions so documentation, such as the CMR, is always available in the correct language.
Customs and rail forwarding

When you are transporting goods internationally, you deal with customs. Whether it's transported over the road, water, air or rail, software by Adaption supports you in the processes surrounding custom declarations. As soon as you create a dossier, you enter the routes and rates. The system automatically recognizes that it is an international transport, announces it to customs and registers it within the dossier.
Wish to seize rail freight forwarding opportunities?
Rail forwarding offers challenges but also massive opportunities. With the FMS by Adaption, you can flexibly arrange your routes and keep an accurate dossier. Do you want to know whether the FMS by Adaption fits your needs? Please feel free to contact us or look at our FMS page!